Do you like to fly longer missions but have a tough time trying to find those opportunities?
Would you like a better process to request multiple legs of a relay flight?
Then we hope that this mission list will be helpful for you!
This mission list is found on the Volunteer Website: https://volunteer.angelflightwest.org/
Find the widget called "Long Missions".
This mission list pulls up all the relay missions that are considered efficient for you and your pilot preferences. Currently, only relay missions that don't have any pilots are displayed in the list. Any relay mission that is partially covered will not appear in the list.
If you don't see any missions or if the displayed missions seem unreasonable for you, we highly recommend that you review your pilot preferences to make sure that they accurately represent what you're looking for in your missions. For a refresher on how to access, review, and modify your pilot preferences, please click here.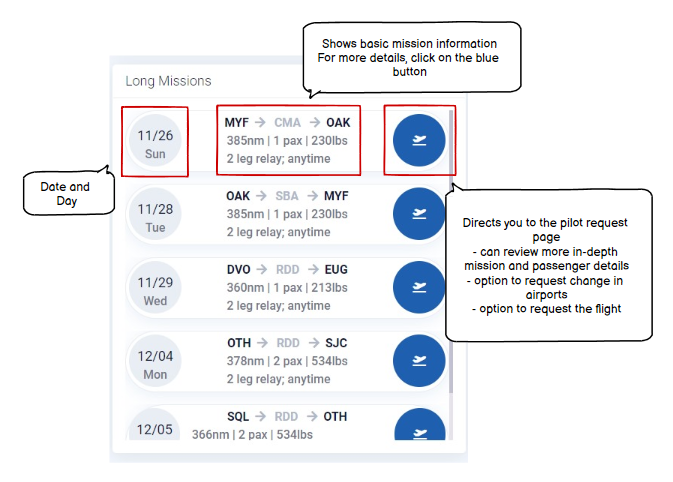 If there are no missions at the time you check the list, we encourage you to check frequently for any newly scheduled relay missions. You may see a message like this one below that indicates that there are no missions to review.

If you do see a mission that you'd like to review further or request, then clicking on

will take you to the pilot request page. In the example below, you'll see that this pilot request page shows the mission legs that are "packaged" into your one request. Once the coordinator processes your request, you will be assigned to each of the mission legs identified in this page.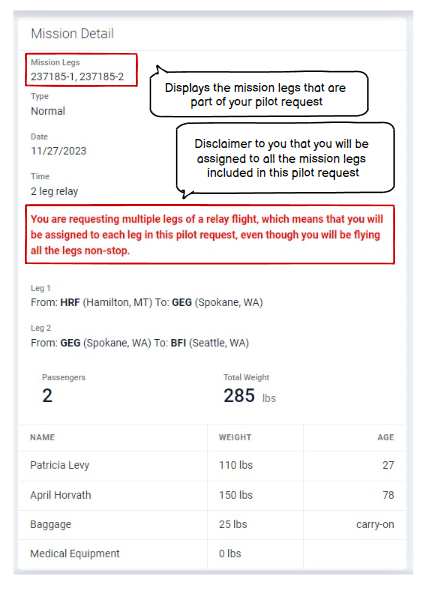 If you want to change the origin or destination airport, then please note your preferences in the comment box for the coordinator to review.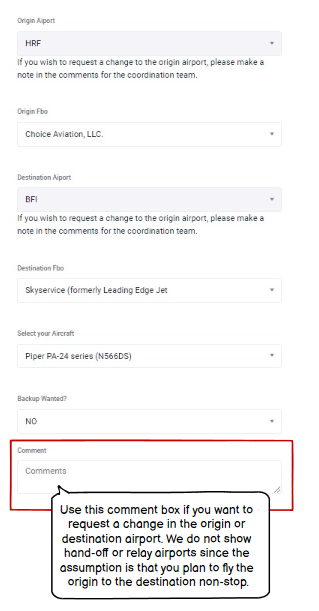 Once your request has been processed and you've been added to your chosen relay mission, then please continue on as you would with any other mission.
Happy flying!