Your Landing Page on the Volunteer Website has a variety of interactive widgets. We want to offer a unique, personalized, and engaging experience right as you log onto the Volunteer Website.
Orientation Progress Widget
We developed a widget that tracks your orientation progress for our volunteers who are currently onboarding to become Command Pilots or Earth Angels. While you are not required to finish your orientation by a certain deadline, we encourage you to complete the process within 30 days of joining the organization to access and participate on missions as soon as possible.
Within 30 days of joining
You'll see reminders to keep you on pace with completing the online orientation. Your "Target Completion Date" is scheduled for 30 days after you join the organization.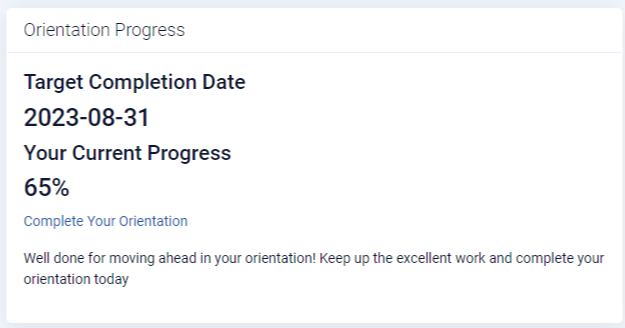 Completing the online orientation
When you complete your online orientation, you'll see a list of your orientation documents and their status.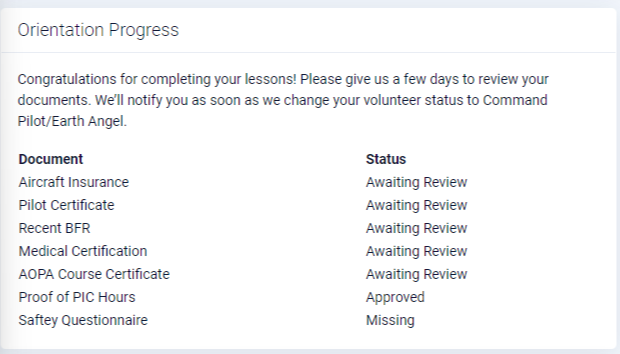 After 30 days
If you haven't completed your orientation within 30 days, then that's OK! You still have a chance to complete your orientation. You can also reach out the Volunteer Services staff to put a hold on your orientation.

Community Discussions
Sometimes, you may want to connect with other volunteers on subjects that are not explicitly related to coordinating mission. This was the case for the Oregon Wing! Their members opted into a distribution email list where they could participate on topics ranging from aviation safety to AFW events to other prurient humanitarian topics. This group will soon include members of the Washington Wing. Here's an example of their Community Discussions.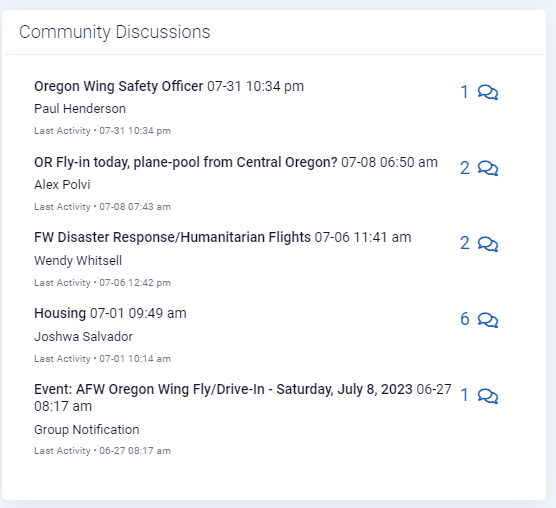 Not a member of the Oregon or Washington Wings? Would you like to participate on a similar discussion board for your wing? Make sure to complete the survey link to indicate your interest!

Mission Photo Widget
We like to celebrate our volunteers for bridging the connection to health and hope for our passengers! This community of volunteers is the hearth and soul of the organization. You'll see mission photos from volunteers who are based at your home base airport, located in your home Wing or other Wings, or fly the same or similar aircraft as you.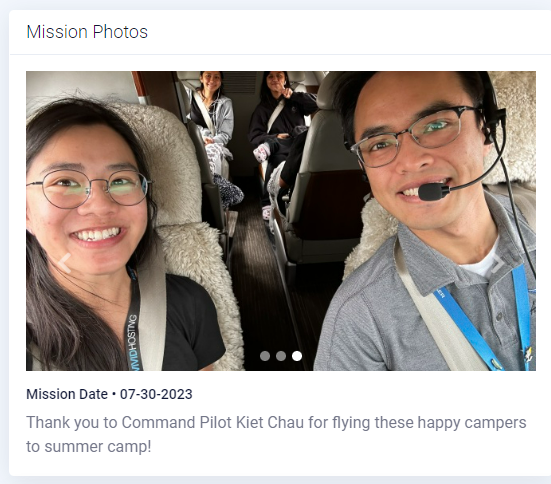 Best Missions for You Widget
Have you filled out your pilot or mission preferences? Terrific! This widget presents the top six mission matches for your preferences on passenger count, passenger weight, and total trip distance. If you haven't completed your preferences, then the top six mission matches are missions that are either based at or nearby your home base airport.
If you don't agree with the recommended missions, make sure to review your Pilot Preferences. Sometimes, adjusting your preferences will help recommend more accurate mission opportunities for you.