To best utilize the volunteer portal, we strongly recommend that you update your pilot preferences and availability details.
New volunteer portal: https://volunteer.angelflightwest.org
The new volunteer portal still hosts the basic functions underpinning the volunteer experience.
View and request available missions
View itinerary of assigned missions
File mission report for completed missions
Complete volunteer renewal
Update volunteer information
There are new enhancements that we would like to spotlight.
Landing page
The landing page or home page displays a curated mission feed for you.
Selecting the "heart" icon will save this mission to your short list. Your short list is available on the Available Missions page for further consideration.
Rating the mission leg on the 1-5 "star" scale will help enhance the recommendations in the future.
The mission match percentage is based on your efficiency and pilot preferences. *In order to increase the quality of these mission matches, we highly recommend that you complete your pilot preferences and availability data. Make sure to complete your maximum total passenger, weight, and distance. Total distance refers to the total round-trip distance.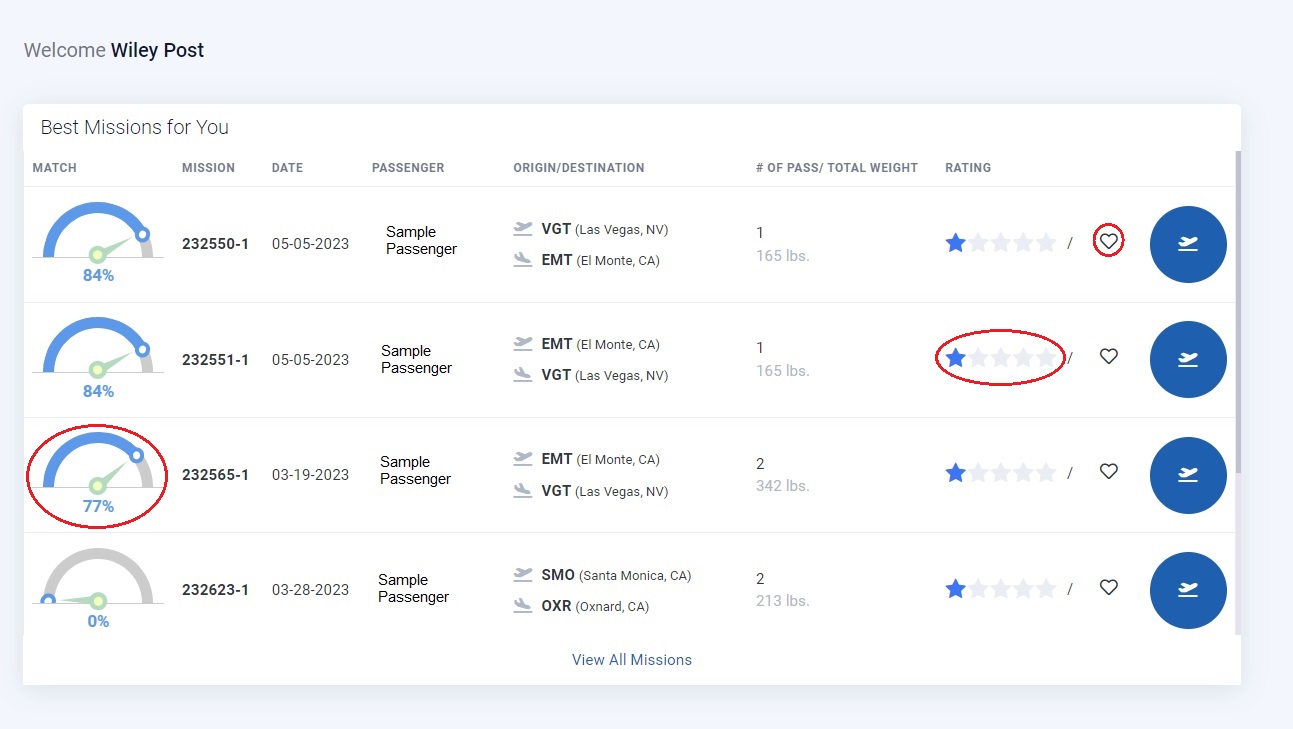 Different Mission Available views
You can select from various views that will filter mission opportunities through certain criteria. *In order to reduce the number of "poor-fit" missions, we highly recommend you to complete your pilot preferences and availability details. We can further filter mission opportunities by excluding those that don't meet your passenger, distance, and weight preferences.
Selecting "Near Me" will display missions that are (1) geographically close to your homebase airport and (2) meet your pilot preferences. If you live in an area that has multiple airports in close proximity, or you live near a state line, then the "Near Me" tab should bring up those options for your consideration.
Selecting "Wing" will display missions that have an origin or destination in your wing.
Selecting "Homebase" will display missions that are originating or departing from your homebase airport.
Selecting "My Short List" will display your saved missions. Example: As you scroll through the list of open missions, you can save the ones that you're considering to your short list for a final decision.
Selecting "Earth Angel Trips" will display open ground missions for those interested in driving opportunities.
Selecting "All" will display all open missions.

Itinerary-Focused
Mission opportunities are presented in the context of the itinerary. The coordinators strive to fulfill the complete itinerary, and not just the outbound or return missions. Many times, the coordinators have scrubbed an itinerary because there was no volunteer for a portion of the itinerary. We hope that this new focus on itinerary fulfillment, rather than mission fulfillment, will help us serve more passengers.
Each itinerary displays the outbound mission to treatment and the return mission to home.
The "Actions" dropdown menu has two options: (1) Apply Feedback and (2) Save to Short List.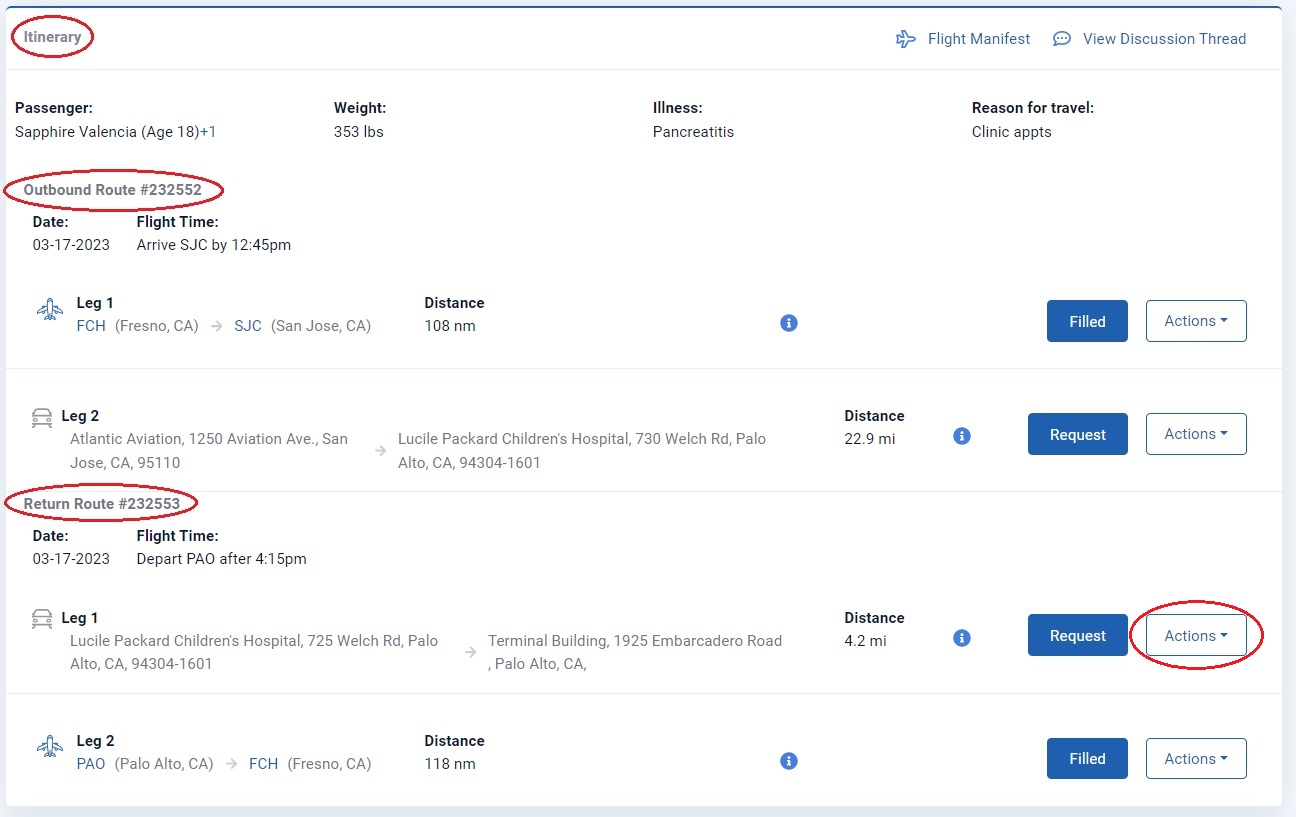 Messages and Notifications
Routine reminders, communications, and transactional messages are consolidated in your volunteer portal.
Messages are used to communicate and host conversational transactions between the volunteer and the staff. For example, any communication that you have with another volunteer or coordinator on a mission will likely show up here.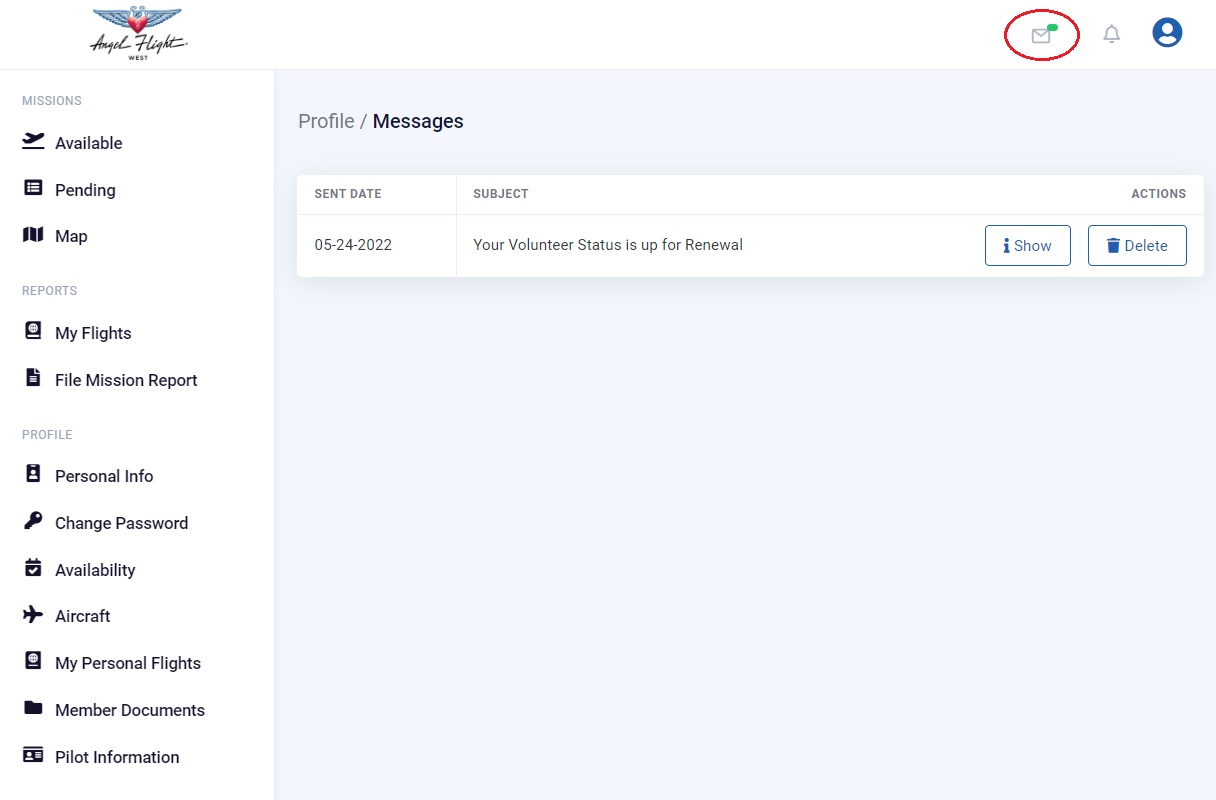 Notifications are used to communicate messages, call-to-actions, or reminders that are time-sensitive or urgent. For example, you might receive notifications about submitting your volunteer renewal or fulfilling a short-notice mission request.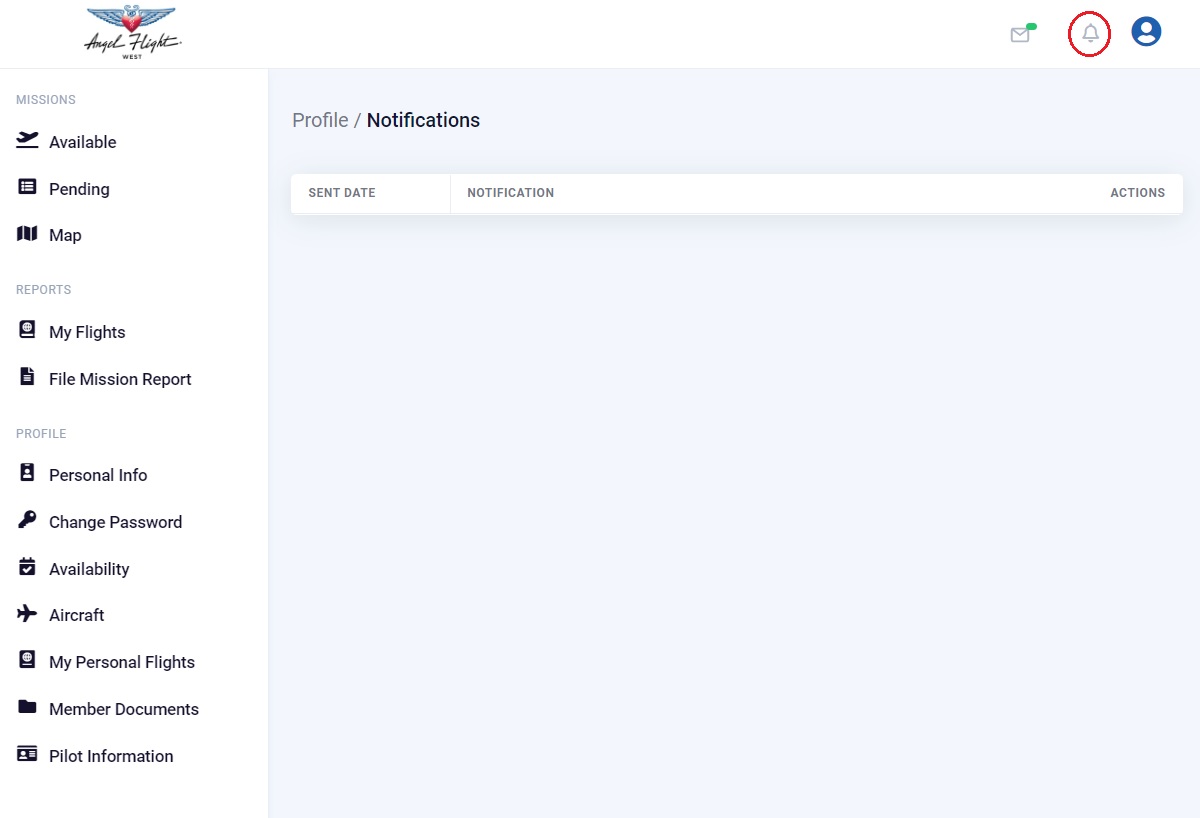 Suggestions? Feedback? Questions?
Please let us know at memberinfo@angelflightwest.org.
Commonly Asked Questions
Why did we launch the new website when the old website was working fine?
In the old website, volunteers had to manually sort through all mission opportunities or apply rigorous search filters to drill down to their best-fit missions. The new website enhances the mission match and search process by automatically incorporating pilot preferences and efficiency. The resulting best-fit mission opportunities are found in the "Best Missions for You" feed on the landing page on the "Near Me" tab in the Available Missions page, thus saving valuable effort and time for the volunteers.
Why does it say that I have no missions, or why are my best-fit missions not accurate?
The process to calculate your best-fit missions is heavily weighted by your pilot preferences. It's important that you enter your maximum passengers, maximum weight, and maximum round-trip distance for consideration. You can review your pilot preferences in "Pilot Information".
Why am I seeing the full itinerary instead of just the open mission?
Since the number of best-fit mission opportunities for your consideration dropped to a significant few (versus reviewing all the missions in your wing), we had the space to provide more information about the passenger's request for travel, hence the full itinerary.