This article is for Command Pilots who are looking for possible Mission Assistants for the their flights. If you are a member seeking Mission Assistant opportunities, please review this article.
We always encourage you, when possible, to bring along another Angel Flight West member as a Mission Assistant. He or she can help with the passengers, and it's a great way to get more of our members involved. Some members may be willing to share the costs of fuel for the mission, as allowable under the FAR's.
Our system for matching you with a Mission Assistant is designed to be easy for both you and the Mission Assistant, and to minimize effort and involvement by the coordination staff, whose primary responsibility is to fill missions with Command Pilots.
Here is how the process works.
1. When you as a Command Pilot request a flight online, you have the opportunity to indicate that you would like to bring along a Mission Assistant. Check "Yes" for "Mission Assistant Wanted?" Please note that before checking this box, you should be reasonably confident of your ability to handle an additional passenger and a reasonable amount of additional weight.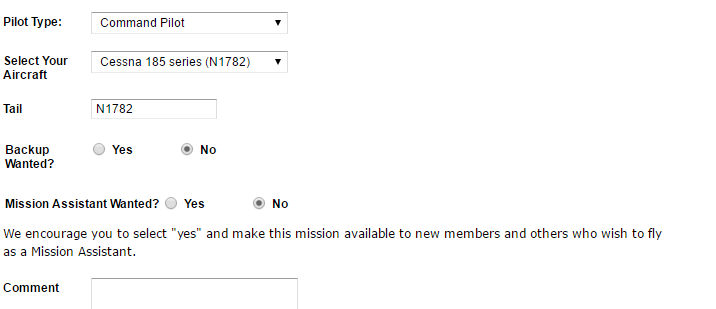 2. When your pilot request is accepted by the staff and you are added to the flight as a Command Pilot, an email is sent automatically to potential Mission Assistants near your home base airport.
3. Any potential Mission Assistants who are interested in your flight will complete a form to provide weight, contact information, and any comments about their availability.
4. You will receive notification when these responses are posted, and you can review them on the VPOIDS site, example shown in the screen shot below: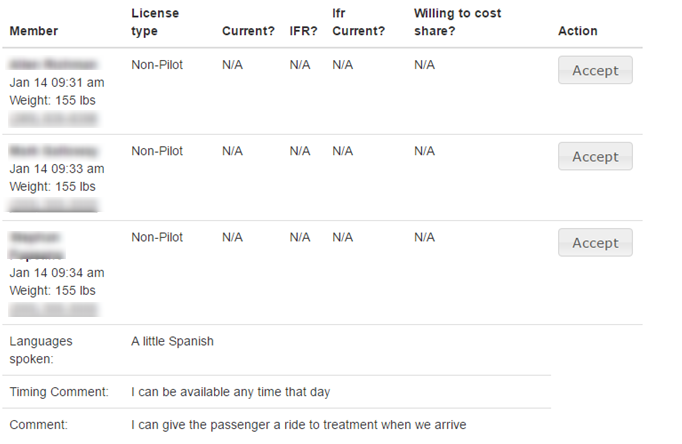 Once you find a suitable candidate, you select that member from the list by clicking the "Accept" button and he or she will be added to your flight as a Mission Assistant. You may wish to contact the member to finalize any details before selecting them, but do definitely contact the member by phone and discuss meeting places, exact ETD, and so forth.